In-person commencement ceremony scheduled for Monday, May 15th, 2023, at 7 p.m. at the Liberty University Vines Center*
To view the recorded commencement, go to our Facebook page.
*Ceremony information subject to change 
All students expecting to complete the requirements for a degree, diploma, or certificate must complete an Application for Graduation and submit it by the required date.
Spring 2023
Application due date: Extended Deadline -- Friday, March 17
Summer 2023
Application due date:  Extended Deadline -- Friday, March 17 (for those participating in the ceremony)
July 7 (if not attending commencement)
NOTE: Please monitor your student email for further information regarding the graduation ceremony for 2023 graduates.
To graduate from CVCC with an associate degree, certificate, or career studies certificate you must:
Fulfill all the requirements of your program curriculum.
Earn a grade point average of at least 2.00.
Complete at least 25% of your required credits at CVCC.
Resolve all financial obligations to the college.
Complete graduate assessment and/or program exit exam.
Note: To view your degree progress within the Student Information System go to: Self Service > Student Center > My Academics > View my Advisement Report.
Graduation Honors
Students who are eligible for honors will have distinctions listed on the academic transcripts and their diplomas.
Honors Designation (Career Studies Certificates not included)
| GPA | Honor |
| --- | --- |
| 3.20 - 3.49: | Cum Laude (with honor) |
| 3.50 - 3.79: | Magna Cum Laude (with high honor) |
| 3.80 - 4.00: | Summa Cum Laude (with highest honor) |

Honors classifications are finalized and posted as each student's degree is conferred. For more information, see the CVCC College Catalog.
Commencement Ceremony Information
Degree/Diploma/Certificate Conferral and Distribution during the Ceremony:
Each row of graduates will be given a signal from their respective Aisle Marshal on when to stand and proceed to the stage. All other graduates will need to remain seated.
Upon reaching the podium, each graduate will give their identification card to the announcer. Each graduate will be greeted by President Capps after their name is called and will be presented with a diploma case. Graduates are then to proceed straight ahead where a photograph will be taken by Photo Specialties. *Information on how to order your pictures will be sent from Photo Specialties 1-2 weeks after the graduation ceremony.  CVCC does not handle any information about photographs.
NOTE THAT PARTICIPATION IN THE COMMENCEMENT CEREMONY IS NOT CONFIRMATION OF GRADUATION. FINAL CERTIFICATION WILL BE COMPLETED WHEN ALL FINAL GRADES HAVE BEEN POSTED AND REVIEWED.
Diploma mailing: All degrees will be mailed to the address that you used when you completed your graduation application. If you need to change your address, you will need to complete a student records change form.

Fall degrees will be available in late March
Spring degrees will be available in late August
Summer degrees will be available in late October
Graduation Rehearsal:
Rehearsal for the annual commencement event will be held on Monday May 15, 2023, at 10 AM at Liberty University. The facility will open at 9 AM for graduates who wish to participate in the rehearsal; there will be no early admission. Only CVCC graduates will be admitted at 10 AM. Students should arrive no later than 9:45 AM to be placed in line. Students who arrive after 9:45 AM can watch the rehearsal in the stands, but will not be able to be placed in line for the rehearsal. While graduation rehearsal is not required, it is strongly encouraged that all graduates attend the rehearsal. Graduates are required to stay during the entire length of the graduation rehearsal; rehearsal will last until 12 PM. At 12 PM all graduates will be asked to vacate the facility as we will need to continue our set up for the event, so please plan accordingly. The facility will re-open at 5:00 PM for graduates and guests.
Recessional:
Aisle marshals will direct graduates and faculty how to recess.
Graduation Attire:
Graduates are required to be in graduation regalia to participate in the ceremony. Students are able to purchase all graduation regalia from the CVCC bookstore. Graduation regalia includes, but is not limited to, cap, gown, tassel, and CVCC stole. Honors graduates will receive a gold tassel at the check-in for the ceremony.

Graduates who are Phi Theta Kappa Members can wear the PTK stole in place of the CVCC stole. Members may also purchase the PTK Honor Cord as part of their graduation regalia.
Business attire is encouraged under gowns.
Women: Dress or blouse and slacks/skirt.
If you're wearing heels, be sure to try them on before the ceremony to ensure they are comfortable. You will be walking down stairs. Low heeled or flat shoes are highly recommended.
Men: Dress shirt with slacks (tie optional) and dress shoes.
Please note these specific exclusions: no flip flops, tennis shoes, or jeans
Donation of your cap and gown:
If you wish to donate your cap/gown/stole for future graduates in need contact the College Registrar or it can be dropped off at the Admissions & Records Office.
Commencement Ceremony Parking
ALL parking for CVCC Faculty, Staff and Commencement attendees will be at the Runk and Pratt Parking garage located east of Routes 460 and 29 on Liberty Mountain Drive at Liberty University East Campus. Parking for those with a valid disabled parking permit, will be at Commons 1 & 2 parking lots located south of the Vines Center on University Drive of the LU Campus.
Upon arrival at the Liberty Campus, people may be dropped off in front of the Vines Center by using the bus lane in front of Liberty Arena/Vines Center. Drivers will then need to proceed to the Runk and Pratt Garage via University Boulevard, left onto Regents Parkway and left onto Liberty Mountain Drive to the parking garage.
Access to the Vines Center from the Runk and Pratt parking garage will be through the pedestrian tunnel located at the base of the parking garage. The tunnel exit is directly across from the Vines Center.
Upon completion of the CVCC Graduation Ceremony attendees will be able to exit Liberty University campus utilizing multiple options.
Runk and Pratt Garage - Three exits as follows:
Level 1

– West Entrance/Exit onto Liberty Mountain Drive




Access to Routes 29/460


 

Level 3

South Exit onto Field House Lane

Left turn ONLY

onto Liberty Mountain Drive




Access to Route 29 South Wards Road at Terminal Drive or LU


Main campus via Regents Parkway
 

Level 3

East Exit onto Tunnel Court –

Right turn ONLY

onto Liberty Mountain Drive




Access to Routes 29 North and 460 East and Liberty Mountain Drive
Commons 1 & 2 Parking - Right turn ONLY on University Boulevard
Access to Route 460 West and LU campus using University Drive and Champion Drive. 
 
Towing will be enforced:
Liberty Police will be enforcing parking regulations. Parking in an unauthorized lot or space may result in the vehicle be ticketed and/or towed.
Frequently Asked Questions
How can I participate in the commencement ceremony?
All candidates must submit a graduation application regardless of whether or not participation in the ceremony is desired. To apply, please click on the "Apply for Graduation" link in your Student Center section of your myCVCC account. Students who wish to attend the ceremony should check the box on the application for "Attending the Commencement Ceremony."
What happens after I turn in my graduation application?
You will see an application confirmation appear on your screen.
It is your responsibility to check your degree program completion with your counselor/advisor.
You will receive further information via email regarding the commencement ceremony.
What if I am taking courses at another institution to fulfill some of my degree requirements at CVCC?
You should note on the Graduation Application any course(s) that you plan to take at another institution in order to fulfill graduation requirement(s). Courses taken at another Virginia Community College do not require transcripts, however you must notify the College Registrar once your grades have posted. If the institution is outside of the Virginia Community College System, official transcripts must be sent to the Admissions & Records Office upon completion of the course(s). Delays may cause your graduation to be pushed to a future term.  Note that only grades of "C" or higher will transfer.
Can I apply to receive a certificate or career studies certificate while I am pursing an associate degree?
Yes, eligible students may obtain a certificate while pursuing an associate degree. Students should remain in their associate degree plan and submit an application to graduate with the chosen certificate.  If you wish to graduate from both the certificate program and the associate degree program in the same semester, you must list each on the graduation application.
If I move, change my name, or change my phone number what should I do?
If you change your address or phone number, you should notify the College Registrar. This will ensure that all mailings, including commencement information and diploma mailing, reach you in a timely manner.
If your name changes you must submit a Student Records Change Form to the Admissions and Records Office. You will need to present a valid driver's license, marriage/divorce decree, social security card, or documentation from the court showing the name change.
How will I be notified about commencement?
Graduation updates will be sent to your student email account beginning in March 2023. Degrees are posted after each semester; however, CVCC holds only one commencement ceremony each May. Students can view details on purchasing caps, gowns and announcements, as well as other pertinent information on this website.
Am I required to purchase a cap and gown?
Yes, if you plan to participate in the commencement ceremony you will need a cap, tassel, stole, and gown. The CVCC Bookstore will have a full range of academic regalia, announcements, and keepsakes available beginning in mid-March for the Class of 2023. If you wish to purchase these items, please visit the CVCC Bookstore. If you wish to participate in the ceremony but find the regalia to be cost prohibitive, please contact the College Registrar. Regalia may be borrowed from the college at no cost to the student.
How much does the regalia cost?
Cap, Gown, Tassel, Stole Package $75.00
Cap, Gown, Tassel, Stole & Early College Honor Cords $88.00
| | |
| --- | --- |
| Gown only | $34.00 |
| Cap only | $9.00 |
| Tassel only | $6.00 |
| Stole only | $29.00 |
| Honor Cords (Early College) | $15.00 |
| 2023 Tassel Keychain | $6.85 |
*Prices shown do not include sales tax
Are graduation announcements available for purchase?
Yes, you may order graduation announcements from www.herffjones.com. These customized announcements have the CVCC logo along with the date, time, and location of the commencement ceremony. You will need to select "Graduation Announcements" and then search for "Central Virginia Community College." In the navigation bar at the top of the page, select "Announcements" to view the available options for purchase.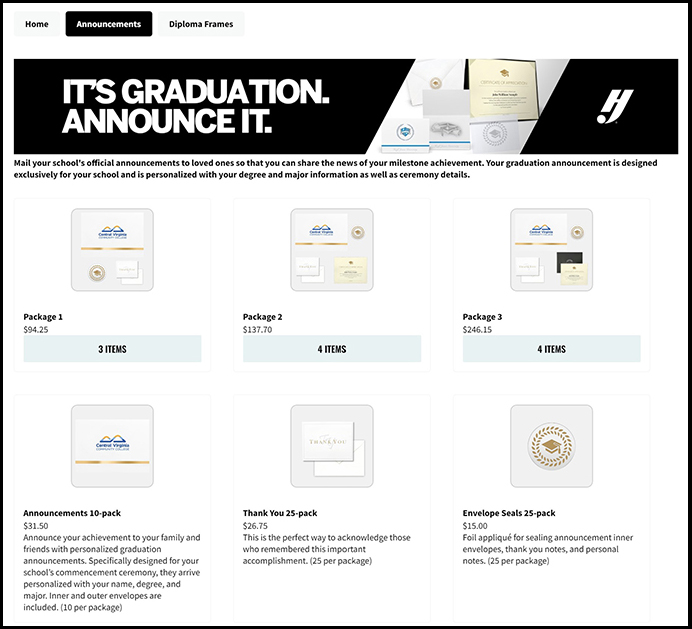 How long will it take for my degree or certificate to be conferred?
Degrees are posted after the semester has ended, grades are received, and course substitution forms or transfer courses are reviewed. It can take 6-8 weeks to post all degrees after the term ends. 
When will I receive my diploma?
An empty diploma case will be presented to each graduate crossing the stage at the commencement ceremony. All diplomas will be mailed directly to graduates to the address on file in SIS. Graduates can expect to receive these according to the following timeline:
| Graduation Term | Diplomas Shipped |
| --- | --- |
| Fall 2022 | March 2023 |
| Spring 2023 | August 2023 |
| Summer 2023 | October 2023 |
|   |   |
*Please keep your mailing address up-to-date in SIS to prevent any delays in receiving your diploma(s).
What if I need proof of graduation prior to receiving my diploma?
Using the Student Information System (SIS), view an unofficial transcript to verify your degree has been posted. If it has been posted you may request an official transcript to show proof of graduation. If your degree has not been posted, contact the College Registrar.
If I am unsuccessful with my graduation attempt, do I complete another application to apply for a future semester?
Yes, you are responsible for submitting a new graduation application reflecting the semester in which you plan to complete your degree requirements. If you are a spring candidate who has withdrawn from your coursework and will no longer be eligible to graduate, please inform the College Registrar so that your name will be removed from the list for commencement mailings and required institutional assessments.
If I am a summer graduate, can I participate in the ceremony in May prior to my graduation?
Yes. If you are completing your courses during the summer semester (May-August), you are eligible to participate in the May ceremony. Summer graduation candidates must meet the March deadline for submitting your graduation application.
Is it possible to obtain an additional degree or certificate after I have already completed one?
If you wish to earn an additional degree or certificate, the Virginia Community College System mandates that your prior program and current program differ by at least 25 percent of credits. This means that 25 percent of your new curriculum must be satisfied by courses that were not used in awarding your prior degree or certificate.
How can I order a replacement diploma?
If you want to order a replacement diploma, you will need to complete the duplicate diploma request and submit the form to the Admissions & Records Office. After all of the necessary information has been received, your order will be placed at the end of the next graduation cycle.  There is a $15 fee for this service per diploma.
How can I register as CVCC alumni?
Please register with our online CVCC Alumni & Friends database.
What ADA accommodations do you offer?
If you require special accommodations for the rehearsal and/or commencement ceremony, you are encouraged to contact the ADA Coordinator no later than 12 p.m. the day before the ceremony.
Ushers will be on hand to assist you on the night of the Commencement Ceremony.
Reserved seating is available for people using mobility aids (wheelchairs, scooters, walkers, or canes) and one escort per person. Other family members may be seated near their relatives. Commencement is easily viewed from all areas within the facility.